Terramazonia has two main product lines: The Elemental line, which is composed by Amazonian fruits in powder, dehydrated in order to preserve the sensory and functional properties of these fruits, providing new flavors and nutritional value for those who want quality of life and well-being through healthy eating.
The other line is Everyday, which is composed by functional powder drinks containing a blend of natural actives from fruits and plants indicated for a specific functionality. These formulations complement a healthy diet keeping the body active and balanced.

Açaí Powder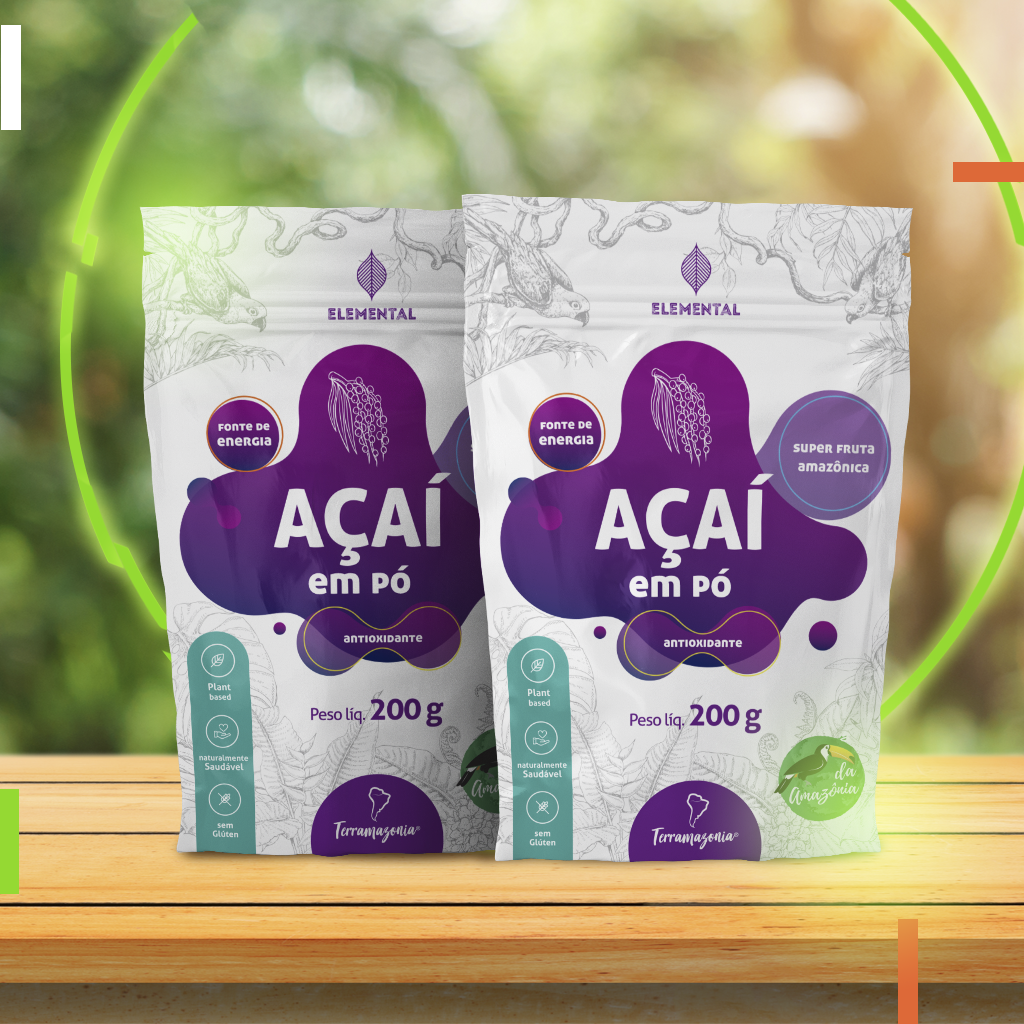 NET WEIGHT - 200G
DESCRIPTION
Açaí powder is considered a superfood with several important nutritional properties for a healthy diet, such as fiber, healthy carbohydrates and antioxidants, which gives energy and functional properties. For those who appreciate the good and classic açaí, you cannot miss tasting Açaí Powder.
Delicious, the fruit comes from the North region of Brazil and offers high energy and nutritional value. Source of vitamin E, B1, B2, B3 and vitamin C, rich in fiber, calcium, magnesium, potassium and fatty acids. In addition to these various benefits, Açaí Powder can be used in different recipes and in different ways.
PROPERTIES AND HEALTH BENEFITS
Açaí, by itself, is already considered extremely beneficial to health, mainly for its energetic properties. Therefore, it is commonly called "the Brazilian superfruit". It is rich in fiber, lipids, minerals and vitamin E, an antioxidant that works to eliminate free radicals, in addition to contributing to the health and regeneration of skin and hair, reducing bad cholesterol and strengthening muscles and bones. In addition, açaí has a high content of anthocyanin pigments, responsible for its purple color. Anthocyanins are substances that have the ability to react with free radicals and exert antioxidant functions in the body, favoring blood circulation and protecting the body against diseases such as cancer and atherosclerosis.
SUGGESTIONS FOR USE
Acai powder can be used in many different recipes. From preparing the traditional Açaí with banana and water, or used in the preparation of juices, smoothies, yogurts or even mixed with granola. As it is in powder form, it can also be used in the manufacture of breads, homemade pasta and functional cakes (always used together with other flours), giving flavor and nutritional value to your recipes. In confectionery, açaí can also be used a lot, whether in cookies, muffins, ice cream or smoothies.
INGREDIENTS
Açaí pulp (Euterpe oleracea Mart.), citric acid INS 330 and maltodextrin.
Cupuaçú Powder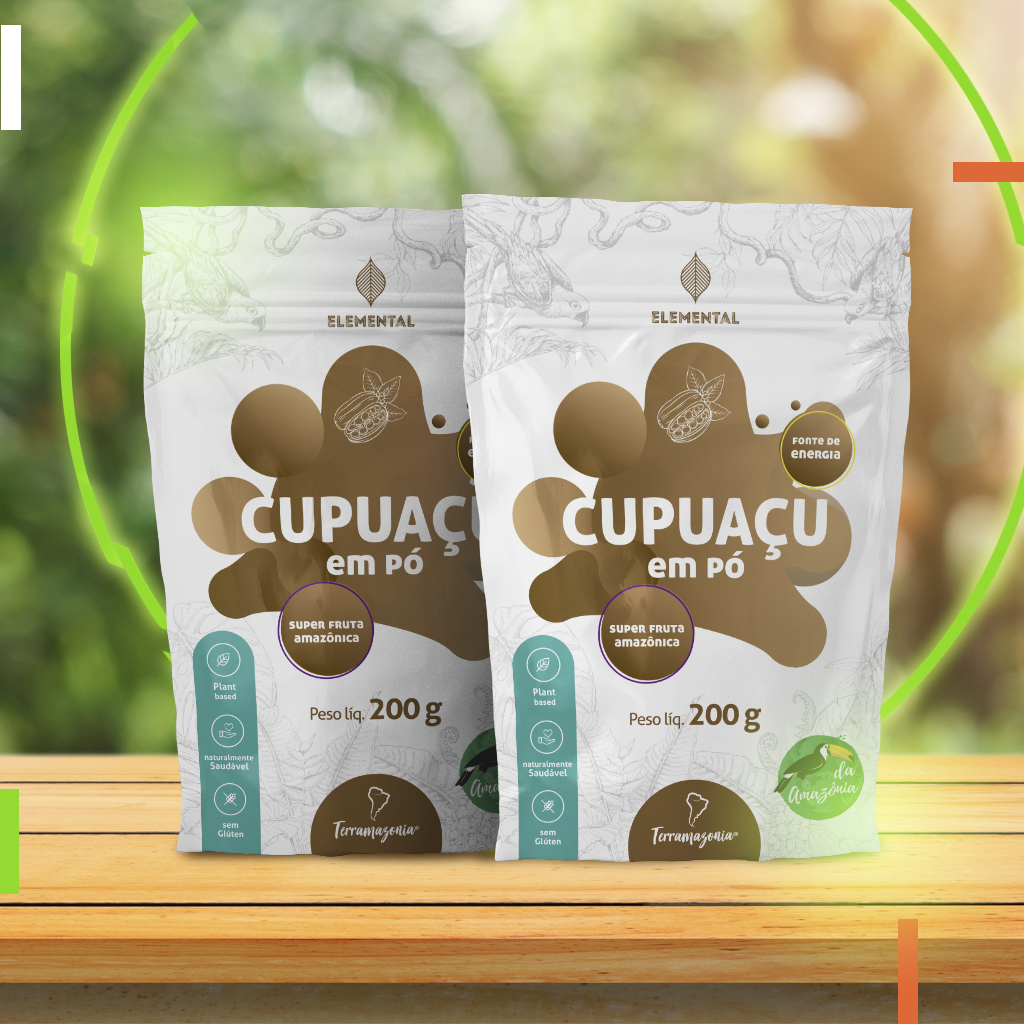 NET WEIGHT - 200G
DESCRIPTION
Cupuaçu powder is ideal for those looking to complete their recipes with a unique flavor. As a medicinal fruit, cupuaçu is much sought after by food industries to compose products such as cereal bars, cookies, cakes, granola and is widely used in confectionery.
Fruit of the cupuaçu tree, the cupuaçu has an average diameter of 25 centimeters. With a hard skin and white pulp, it weighs an average of 2 kilos, measures between 6 and 12 centimeters in width and between 10 and 25 centimeters in length. Cupuaçu cultivation is typical of the Amazon region.
Cupuaçu is an extremely effective supplement for weight and body fat loss. This process happens because its micronutrients increase energy levels, which consequently increases fat loss and prevents it from being stored. Another positive point is that the benefits of cupuaçu are compared to the effects of caffeine, but because it does not have caffeine in its composition, cupuaçu is considered even healthier.
PROPERTIES AND HEALTH BENEFITS
Cupuaçu is a source of vitamins with special reference to vitamin A, B complex and C. It is a fruit rich in flavonoids, powerful antioxidants that help the body stay young, which neutralize the action of free radicals and protect the skin and all aging body cells.
It is also a source of valuable minerals such as iron, calcium, potassium, phosphorus and selenium. Calcium is essential not only for healthy bones and teeth, but also for the proper functioning of the nervous system. This fruit also protects the health of the gastrointestinal system. It is a source of essential fatty acids that help keep your skin soft and make your hair shiny. The vitamins found in this fruit, along with the essential fatty acids, make a perfect combination to protect the body against cardiovascular disease, mood swings and memory problems.
SUGGESTIONS FOR USE
Cupuaçu powder has great penetration and use in confectionery. It can be used in the preparation of juices, ice creams, liqueurs, creams, gelatins, mousses and puddings. In addition, cupuaçu powder from Terramazonia has already been tested and is excellent in the preparation of pies, cakes, paves, biscuits, toppings and fillings for other sweets, jams and jellies, spoon, cut and candied sweets and in the famous sweets from cupuaçu. Other uses found for cupuaçu are its use as an ingredient in sweet and sour sauces for fish and pork.
INGREDIENTS
Dehydrated cupuaçu pulp (Theobroma grandiflorum) and Maltodextrin
GUARANÁ POWDER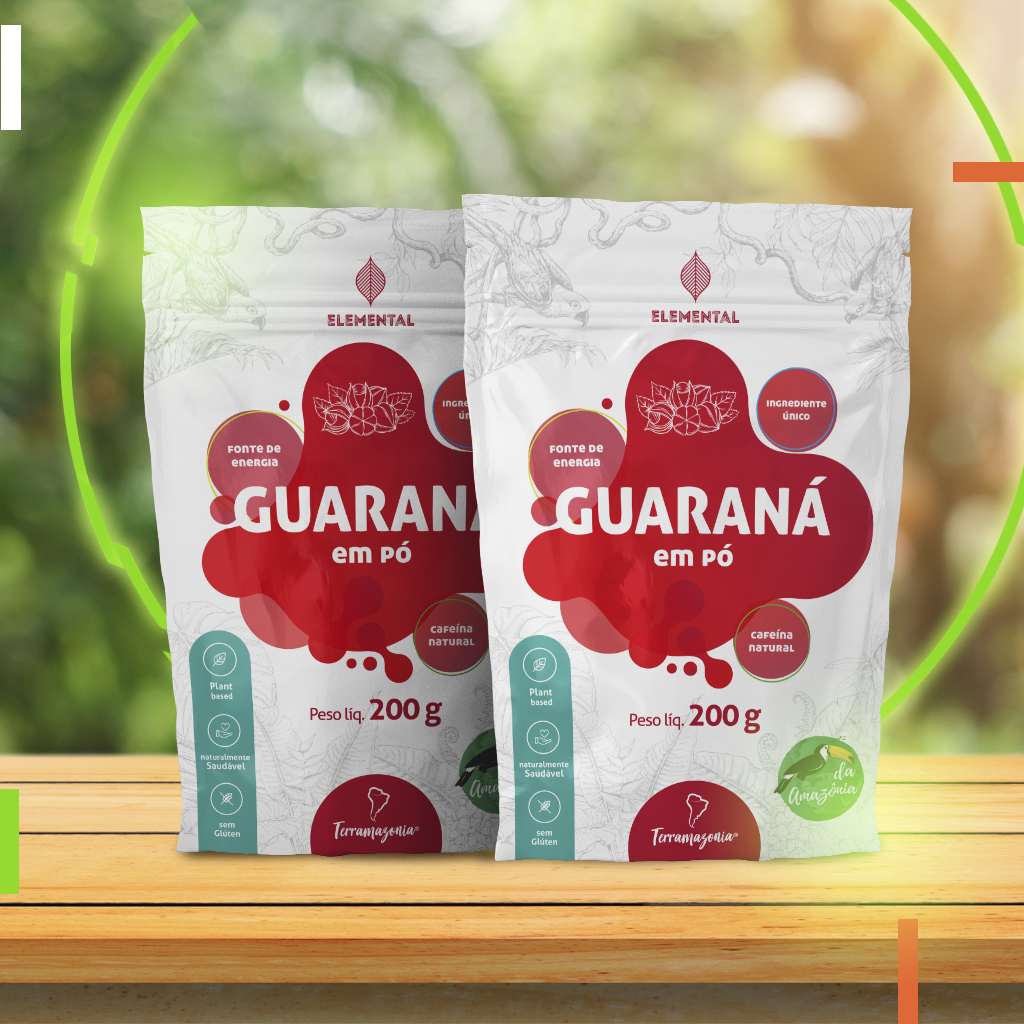 NET WEIGHT - 200G
DESCRIPTION
Guarana powder is made from guarana seeds and brings benefits such as increasing alertness and attention, improving mood and stimulating the burning of fat in the body, being an excellent option to give more energy to training and diets of slimming.
This seed has a large amount of starch, about 60% of the dry seed, tannins, methylxanthines - especially caffeine, theobromine and theophylline, in addition to several bioactive compounds, such as flavonoids. Regarding mineral salts, it has phosphorus, iron, magnesium, potassium, calcium, as well as vitamin A (important for eye health) and vitamin B. Guarana powder is rich in caffeine, reaching up to 8% of its composition in your dry dough. To give you an idea, coffee has up to 2.5%, yerba mate around 1% and cocoa around 0.7% (a nutrient involved in energy metabolism).
PROPERTIES AND HEALTH BENEFITS
The most known native plant in the Amazon, guarana is a powerful natural stimulant. Guarana is rich in functional substances, such as caffeine, theobromine and theophylline. It is an aphrodisiac, has tonic action, is astringent, febrifuge, diuretic and serves for physical and mental fatigue, immunostimulant, antioxidant, in addition to fighting obesity and improving blood pressure. Theophylline and theobromine have a bronchoprotective effect, immunomodulating and anti-inflammatory action, delaying the aging process and inhibiting the deposition of cholesterol in the arteries, allowing better blood flow throughout the body.
The consumption of guarana increases daily caloric expenditure and decreases appetite, by keeping blood glucose levels stable, thus fighting obesity. It is rich in catechin, which is a substance that fights free radicals, having an antioxidant effect, preventing aging.
SUGGESTIONS FOR USE
It can be added to teas, juices, yogurts and smoothies in a measure of 1 tablespoon per day. If you need extra energy, take a similar dose in the early afternoon hours.
INGREDIENTS
Guarana seed powder (Paullinia cupana)
CAMU-CAMU POWDER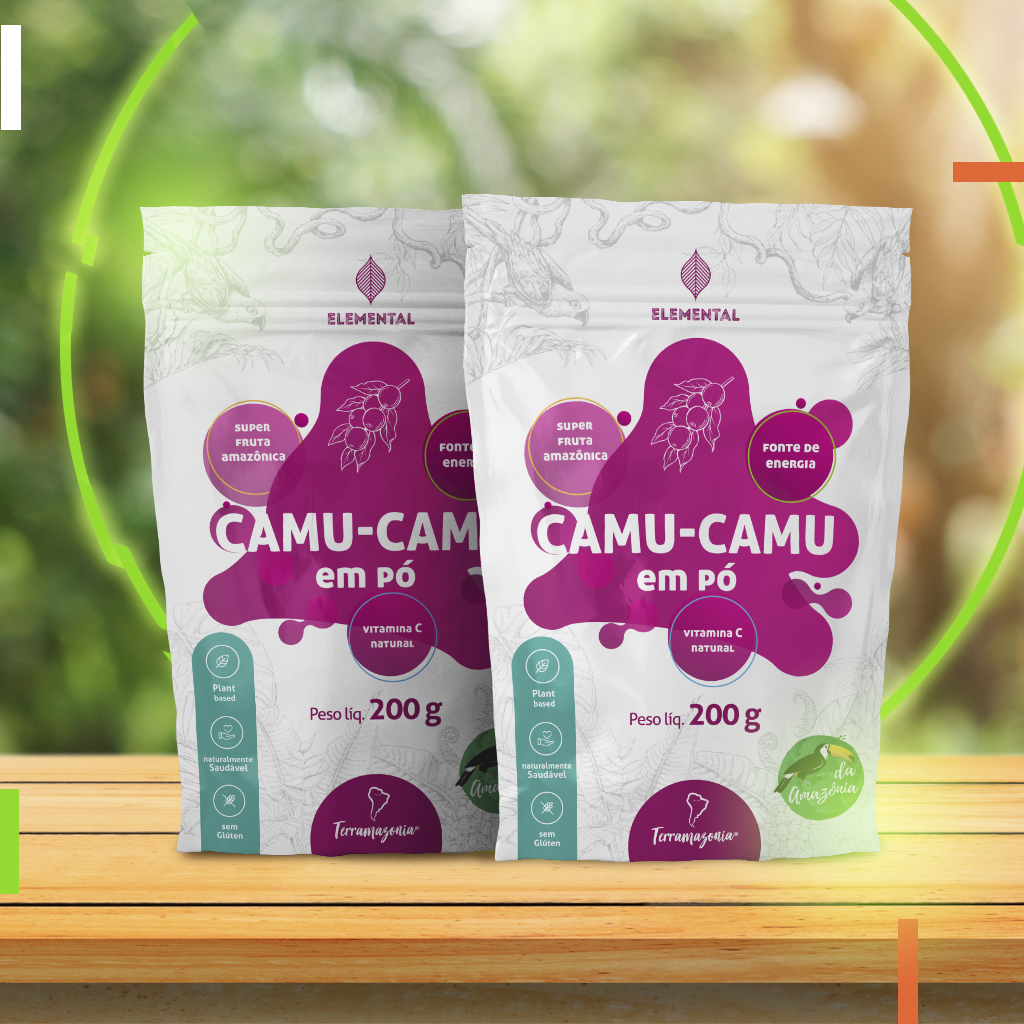 NET WEIGHT - 200G
DESCRIPTION
The best way to consume the Brazilian superfruit Camu Camu is in its powdered version. The Camu-camu fruit (Myrciaria dubia) is a fruit plant native to the Amazon and difficult to find in other regions of Brazil. Its fruits, with a slightly sour flavor and a cherry-like color, accumulate several essential nutrients and synthesize L-ascorbic acid (vitamin C) in large quantities. To give you an idea, the vitamin C content of this fruit is higher than any other natural source. Although little known, camu-camu powder is rich in antioxidants and provides powerful benefits for those who consume it.
PROPERTIES AND HEALTH BENEFITS
This antioxidant-rich fruit is also a rich source of potassium, calcium, protein, beta-carotene, amino acids and potent phytochemicals. It has astringent (healing effect), antioxidant (protects cells against free radicals), antiviral (colds and flu) and anti-inflammatory (relieve arthritis and other inflammatory diseases) properties. The beneficial effects of camu-camu include anti-inflammatory, anti-obesity, hypolipidemic, anti-hypertensive and anti-diabetic action, as well as combating premature aging, in addition to protecting against DNA damage and against various types of cancer.
Strengthens immunity: camu camu is very rich in vitamin C, which plays several important roles in the body – among them, supporting the immune system. In addition, this vitamin is necessary for the formation of collagen, a protein that supports skin, bones and muscles.
SUGGESTIONS FOR USE
To enjoy all the benefits of camu camu, add a tablespoon of camu-camu powder to your favorite juice or smoothie. It can also be used to prepare juices, ice cream, popsicles, jellies or sweets. Or to add flavor and color to different types of pies and desserts made from other fruits.
INGREDIENTS
Camu-camu pulp (myrciaria dubia) and Maltodextrin